This article contains the following topic:
Mark rosters as ready to publish
What is the mark rosters as ready to publish feature
Marking a roster as ready to be published is a feature that allows managers at area level to create rosters and manage staff. This feature prevents these managers from publishing the roster as it requires publishing to be completed at site level. 
Publishing can be enabled at area level. For more information see: Rosters - Area level publishing
Why is this feature important
Publishing at site level is the system default. This allows managers at site level to review rosters prior to their publication. 
How to mark rosters as ready to publish
1. Open a roster 

2. Once the roster is ready to be published click the cog in the top right corner of the roster

3. The option that normally publishes the roster is now displayed as 'mark as ready to be published'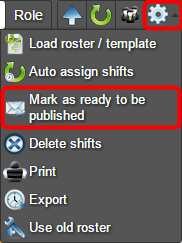 4. A popup will appear confirming that the roster should be marked as ready to publish. Click 'Yes' to confirm this decision

5. Shifts will turn blue once the roster has been marked as ready to be published