This guide contains the following information:
How to create a roster shift
How to edit a roster shift
How to delete a roster shift
How to bulk delete roster shifts
What are roster shifts
Roster shifts are shifts that are assigned to employees and provide information regarding the employees' tasks for a specific date.
Why is this important
Ensuring employees understand what is required of them for a shift is the purpose of the roster. Changes may need to be made to a roster as an organisation's requirements change.
To create a roster shift
After opening a roster period the following instructions will help users create, edit and delete a roster shift.
1. Click in the cell to create the shift manually.
2. Drag a common shift from the common shifts bar.
3. Copy a shift from another employee by clicking and dragging a shift, hold down Ctrl button then let go of the mouse button.
To edit a roster shift
1. Click the shift and the radial menu will show.
2. Click the Manage Shift button
3. Adjust the roster shift settings.

Deleting roster shifts
Rostered individual shifts can be deleted 2 ways. 
1. Click and drag the shift into the bin that appears on the right hand side.
The bin will gain a blue shadow and give the appearance of having items in it, to signify that if released in that location, the shift will be deleted.
2. Click the shift and the radial menus will show. Click the delete button.
Bulk deleting roster shifts
If you want to delete shifts in bulk, this can be done by either Column (Date), Row (Employee, Role, or Client depending on the view you are in), or for the entire portion of the organisation that you have scoped to.
1. Scope the organisation to the Site/Area/Roles you would like to affect.

2. To delete a row or column, go to either the full right of the row or the full bottom of the column in question and click on the cog to bring up additional options, then press the Delete Shifts button to remove shifts from the entire row or column.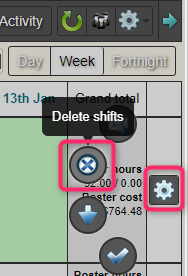 3. If you would like to delete the entire period that you are looking at, click on the cog at the top right of the roster and then click on Delete Shifts in that menu.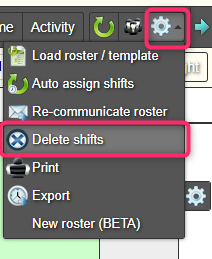 *NOTE: Once a roster has been deleted, this action cannot be undone. The rostered shift will need to be re-entered from scratch.