This article includes the following topics:
How to Purchase SMS Credit
How to check what SMS messages have been sent
What are SMS credits
SMS credits in easyemployer give managers the ability to send an external notice to employees in their organisation via text message (SMS) to the users mobile phone. 
Examples of these communications are roster shifts, leave requests or notices. 
Why is this important
The text message service provided in easyemployer has a cost attached to it. If text messages fail to send users are advised to check that they have enough credit to send the messages and purchase additional credits if required. Not all organisations wish to utilise this feature. Please check with the relevant person in your own organisation before utilising this feature. 
To use SMS communication from the system, SMS credits need to be purchased.  
Note: Only Organisation-level Owners are able to make SMS purchases.
Charges only apply for outgoing SMS messages. Incoming SMS messages (e.g. from roster replies) are not charged. 
How to purchase SMS credits
1. Click Organisation
2. Click Organisation (Manage Organisation)
3. Click Billing 
Your current SMS quota will be displayed:
4. Click Purchase SMS and the available packs will be displayed:
5. Click Purchase corresponding the the amount of credits you would like to purchase. 
6. Remember that SMS Credits don't expire
How to check what SMS messages have been sent
Checking what SMS messages have been sent is also easy to do.
1. Click on 'Reports' in the navigation bar

2. Scroll to the Misc. Reports and select the 'Communication log' 

3. The communication log tracks all communication sent from or to easyemployer. This report can be further scoped to only display SMS communications be clicking 'Edit' in the methods row.

4. Making this selection will cause a pop up box to appear. Select the type or types of communication methods that need to be reviewed.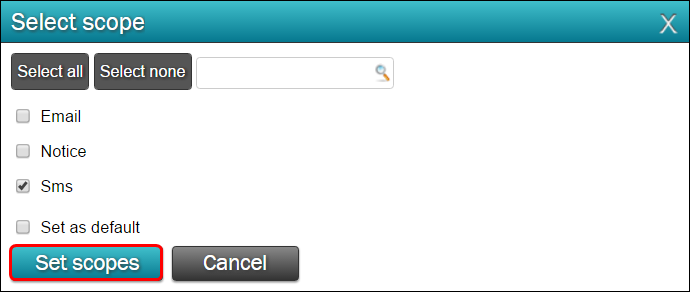 5. Once the selections have been submitted all of the relevant communication messages will be displayed.