This article includes the following topics:
Configuring easyemployer to display entitlement balances
Limiting users from seeing certain entitlements
What is the entitlement balance
Entitlement balance refers to the types of leave employees accrue as part of their employment contract. Examples of this include; Annual leave and Personal leave.
Why would this need to be displayed
In easyemployer users have the ability to submit a request to take leave. Some organisations may wish to enable easyemployer to display current entitlement balances to assist their employers when submitting a leave request.
How to configure easyemployer to display entitlement balances
The display of entitlement balances can be set per payroll entity.
1. Click Organisation
2. Click Organisation Structure
3. Click on the Payroll Entity
4. Click Settings
5. Edit Show Entitlements, click Yes and then click Save
6. Entitlement balances can now be imported in from your payroll application to be displayed inside of easyemployer
Limiting users from seeing certain entitlements
Within award pay groups, entitlements can be set to be displayed to users or not.
1. Click Organisation in the navigation bar
2. Click awards
3. Select the award
4. Select the award pay group
5. Click Edit award pay group (near the top of the page)
6. Scroll down to the entitlements section and click the pencil in the actions column to edit.

7. Tick the box next to Show to employees if employees should see this entitlement value or ensure it is not selected if the entitlement should be hidden.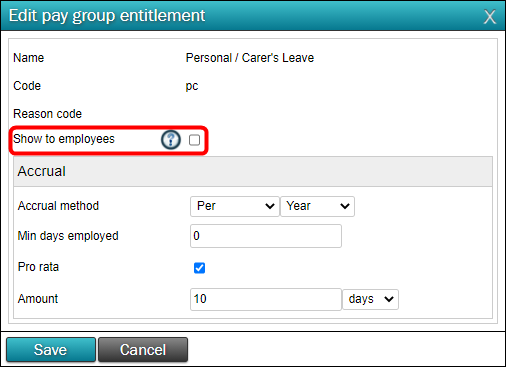 8. Click Save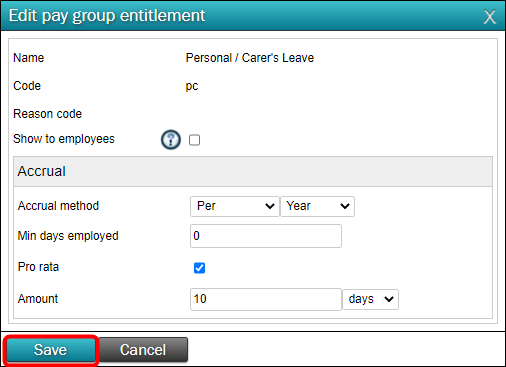 9. The setting for each entitlement is visible on the entitlement table.

10. Click Save and update at the bottom of the page after making changes to the award pay group