1) Overview
2) Assign placeholder rates
i) Placeholder rates in action
ii) Award pay group screen
iii) Payroll calculation
3) Payroll applications that currently support placeholder rates

---
🔍

RELATED ARTICLES
Award | Interpretation periods
---
1) Overview
User placeholder rates allow you to override the multiplier or hourly rate for a payroll category in the award at the user level.
This allows complete flexibility in managing above award rates for specific times of the day only, while allowing the user to be on the award base rate and apply award penalties or overtime for other times of the day.
Use this feature discretionally, when adding users to a pay group, or updating a user's pay group. It can be used, for instance, if a user is on varying pay rates throughout different times of the day.
---
NOTE:
User Placeholder Rates are not enabled by default, and some account preparation is required before this feature can be enabled.
Please contact the Easy Employer Support Team for more information.
---
2) Assign placeholder rates
To assign placeholder rates to a user, take the following steps:
---
NOTE: Users pay conditions (pay groups) cannot be changed in a finalised payroll period. The period needs to be unfinalised to make changes.
---
i) Placeholder rates in action
For this example, the user Andrea Lewins, is on the award rate of $22.78, but is set to be paid $35 for hours on Monday to Friday between 6pm and 12am, and $40 for the same hours on Saturdays. All other pay rates are based on the award.
ii) Award pay group screen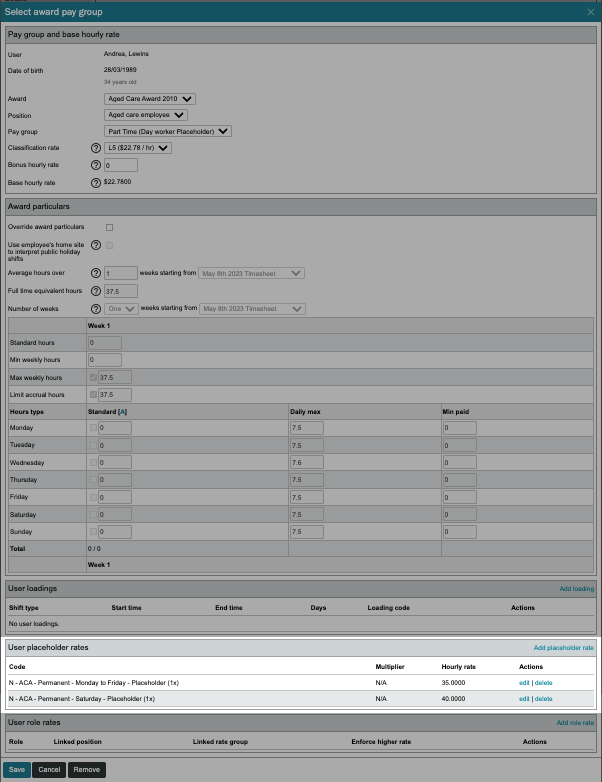 iii) Payroll calculation

3) Payroll applications that currently support placeholder rates
This feature requires a payroll application which accepts hourly rates in the payroll data file or through the API:
Payroll Guru.
Sage MicrOpay.
Attache.